You are here
Siendo inspirado por Lázaro Arbos
06/09/2017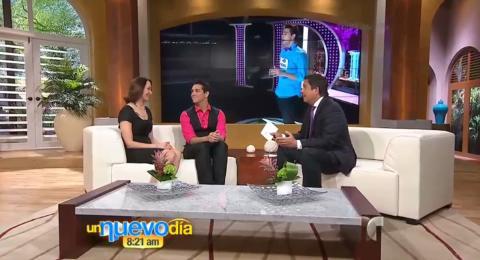 Blog by Voon Pang, Jan. 21, 2013
A couple of nights ago, the stuttering community jumped for joy when Lazaro Arbos auditioned for American Idol. The social and media firestorm that ensued was amazing, which ultimately led to increased awareness and education for those about stuttering. In writing this article, I "googled" stuttering + American Idol and 65 various sources popped up in the news section of Google. The websites included Fox News, Examiner.com, Today.com, RadarOnline, MTV.com and Entertainment Weekly just to name a few.
I read some of the articles and posts on the Stuttering Foundation's Facebook Page and found some quotes from the general public, which summarise the significance and inspiration this 21-year-old man has had on us.
"My four-year-old said, "Mommy, he has bumpy speech just like me!" Thank you for being a role model, Lazaro!"
"As someone who has stuttered most of my life, I applaud the courage this young man has shown."
"My son who stutters was inspired by his bravery! Congratulations to Lazaro!"
"Lazaro, you are adorable, but you really are also an inspiration to other young people who suffer from stuttering or any other disabilities that make it hard for them to express themselves."
Even my own sister commented, "I love his story and it's so nice to know your work helps kids find their voice" when I shared the link with her on Facebook. (Thanks sis, it's stories like this that keeps me going!!)
I'll be cheering him on from New Zealand and doing my best to keep up to date on how he is getting on in American Idol. Congratulations Lazaro and I know that you will develop a Fan Army (so far I can only think of "Arbonauts" as an appropriate name) within AND beyond the stuttering community!
P.S. If you want to follow Lazaro on Twitter you can find him on https://twitter.com/LazaroMusic